B.Sc. Home Science (Bachelor of Science-Home Science)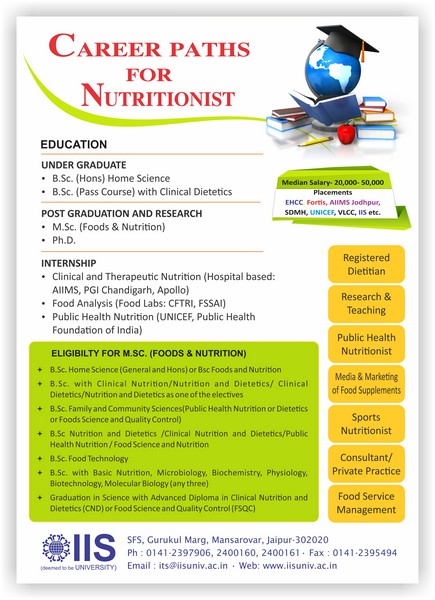 The course structure shall be as follows:
i) Foundation Courses
In Part I (Semester I and II) the programme is being offered as B.Sc.-Honours (Home Science) under CBCS. The new CBCS-based course structure at Part I, to be followed by Parts II and III successively, is detailed in the pages on 'CBCS' for undergraduate courses. For Part II and III students (admitted in part I in the year 2015-16)however, it will be continued to be offered under its original nomenclature i.e. B.Sc. Home Science.
Part II/ Part III
The course structure shall be as follows:
i) Foundation Courses
SEMESTER
COURSE
Semester III

Computer Applications
Our Environment

Semester IV

Information Technology
Environmental Conservation

Semester V

General Studies

Semester VI

Entrepreneurship and Management
ii) Core courses as prescribed in the syllabus.
iii) NSS/NCC/Sports/Cultural Activities (any one;optional-subject to the earning of four credits in Part One)
iv) Certificate(COSD) (any one;optional-other than the one opted for and cleared in Part One)
v) Diploma and Advanced Diploma (COSD) (any one; optional-subject to clearance of the Certificate / Diploma exam at the previous level)
Enquire Now For Admission
The IIS University is an all-India Institute for higher education. The primary motive of IIS University is to train young women able and eager to create and put into action such ideas, methods, techniques and information.The University is a dream come true Best Girls University in Rajasthan. This university was christened as IIS (Deemed to be University) providing the highest quality technical education to women students from all over India
Best Girls University In Rajasthan and specialised latest professional courses. There is a great academic environment we can boast about. Highly recommended for overall development for the women who want an edge extra.
The best women university in Rajasthan. Its a university which provide wide variety of both conventional and contemporary programmes of study. It also promote research based learning among students.
Modern University with unique culture.The students find meaning to their dreams and path to their goals. Beautiful and lively campus. University gives platform to our ideas and also help to nurture them.