B.Com. (Hons.) in Applied Accounting & Finance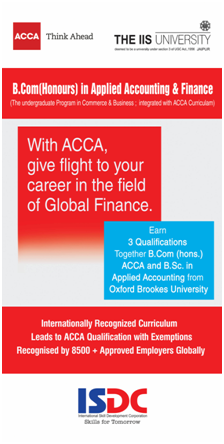 BCH01 BACHELOR OF COMMERCE – HONOURS (B.Com. Hons.)
Applied Accounting & Finance
The B.Com. Honours in Applied Accounting and Finance is an ACCA (Association of Chartered Certified Accountants) accredited programme. ACCA is the global body for professional accountants with over two lakh members and five lakh students in more than 180 countries.
The programme has been designed taking into consideration the professional and curricular requirement of students aspiring to have a globally recognized career in the field of accounting and finance.
The dual advantage of this programme is that besides being a full-fledged degree programme, it also prepares students for the ACCA qualification.
The programme further allows students to earn additional qualifications such as Certificate in International Financial Reporting Standards (IFRS) and Advanced Diploma in Accounting and Business from ACCA,  B.Sc. Honours in Applied Accounting from Oxford Brookes University (OBU), U.K., etc. alongside their degree programme.
A highlight of the MoU signed with ACCA is that a student of IIS deemed to be University gets exemption of 6 out of total 13 papers of the ACCA qualification and some fee benefits
The structure is as follows :
(i) Core courses as prescribed in the syllabus
(ii) NSS/NCC/Sports/Cultural Activities (Any one-optional)
(iii) Certificate Programme (COSD in International Business) compulsory in the First Year; Diploma and Advanced Diploma courses optional in the Second and Third Years, respectively, subject to clearing the Certificate / Diploma exam at the previous level. 
(iv) Campus Activities
Enquire Now For Admission
The IIS University is an all-India Institute for higher education. The primary motive of IIS University is to train young women able and eager to create and put into action such ideas, methods, techniques and information.The University is a dream come true Best Girls University in Rajasthan. This university was christened as IIS (Deemed to be University) providing the highest quality technical education to women students from all over India
Best Girls University In Rajasthan and specialised latest professional courses. There is a great academic environment we can boast about. Highly recommended for overall development for the women who want an edge extra.
The best women university in Rajasthan. Its a university which provide wide variety of both conventional and contemporary programmes of study. It also promote research based learning among students.
Modern University with unique culture.The students find meaning to their dreams and path to their goals. Beautiful and lively campus. University gives platform to our ideas and also help to nurture them.